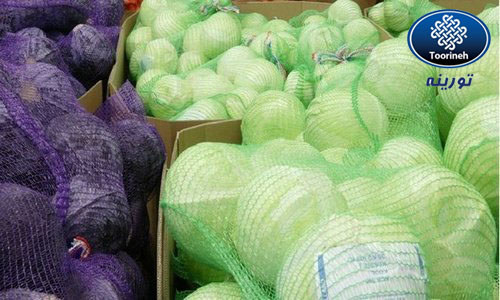 Cabbage packing and storage
Among the vegetables, cabbage has a high value, especially for export. Exporting cabbage is one of the most profitable types of investment for producers.
Cabbages must be loaded and exported after the temperature is lowered by the refrigerator.
It is very important to avoid the bulk packaging of cabbages. The best and most convenient option to packaging cabbages is
Raschel bag
(mesh bag).
Planting time of cabbages:
Cabbage is a solid (sturdy) and leafy vegetable with full of vitamins. Cabbages can be harvested twice a year with proper care and planning, even though it is difficult to plant and grow cabbage. Cabbage seeds should first germinate indoors for 2 to 4 weeks before the last spring cold. After that the cabbages buds should be planted in the fertilizer or garden soil 2 or 3 weeks before the last expected cold.
Each seed should be planted in a row from 30 to 35 cm. If the seeds are planted closer, the smaller the crop will be produced. To maintain moisture and regulate soil temperature, it is advisable to use a large amount of fertilizer. It is necessary to maintain soil quality with crop rotation and plant other varieties.
Harvesting cabbage:
The crop can be harvested when the spherical collection of cabbage leaves is completely rigid. special harvesting machines are used on large-scale vegetation. The amount of harvested plants depends on the variety of cabbages and the range would be from 30 to 60 tons per hectare.
Cabbage storing:
Stored cabbages strongly need to air ventilation and prevent sweating. Raschel bags (mesh bag) are the most appropriate solution to Maintaining quality and it's an economical way for packaging these crops.
Once the cabbage is packed, it should be stored in the refrigerator. It can be stored for up to several weeks by maintaining temperatures between zero and two Celsius degrees and 90% humidity.
Published:
15:36:53 1398/09/02
Visited: 1474